Back to PMJA 2023 Speakers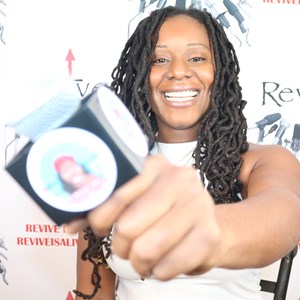 P.O.C.
Contact information may be available to logged in members.
Professional Bio
Tamara Rusell, also known as P.O.C. (Proof of Consciousness), is the Founder and Host of REVIVE RADIO, an online broadcasting platform, and a media correspondent for the joint venture REVIVE Media. The depth of her interviews stimulates conversation ranging from politics, societal issues, small businesses, music, health, nonprofits, and trending topics. When she is not behind the mic, she is curating workshops for the youth, engaging with the community by meeting them where they are, and volunteering for different community services.

P.O.C. became the youngest African-American woman regularly scheduled on Philadelphia's NPR WHYY station 90.9 FM in 2020. She is an active member of Philadelphia's NPR PBS WHYY "N.I.C.E." News Infomation Community Exchange Program and The Lenfest Institute for Journalism Constellation News Leadership Initiative Fellowship. Also, P.O.C. is an honorary founding member of the National Black Media and Press Association and a member of For(bes) The Culture. Lastly, P.O.C. is the recipient of The National Black Media and Press Association Award for excellence in audio media. This is a testament to her hard work, dedication, and never-ending willingness to uplift others' voices through arts and entertainment.
Company WHYY
News Organization
---
Job Role
Outside of the newsroom, Editor, News Manager, Producer, Reporter, Host, Digital