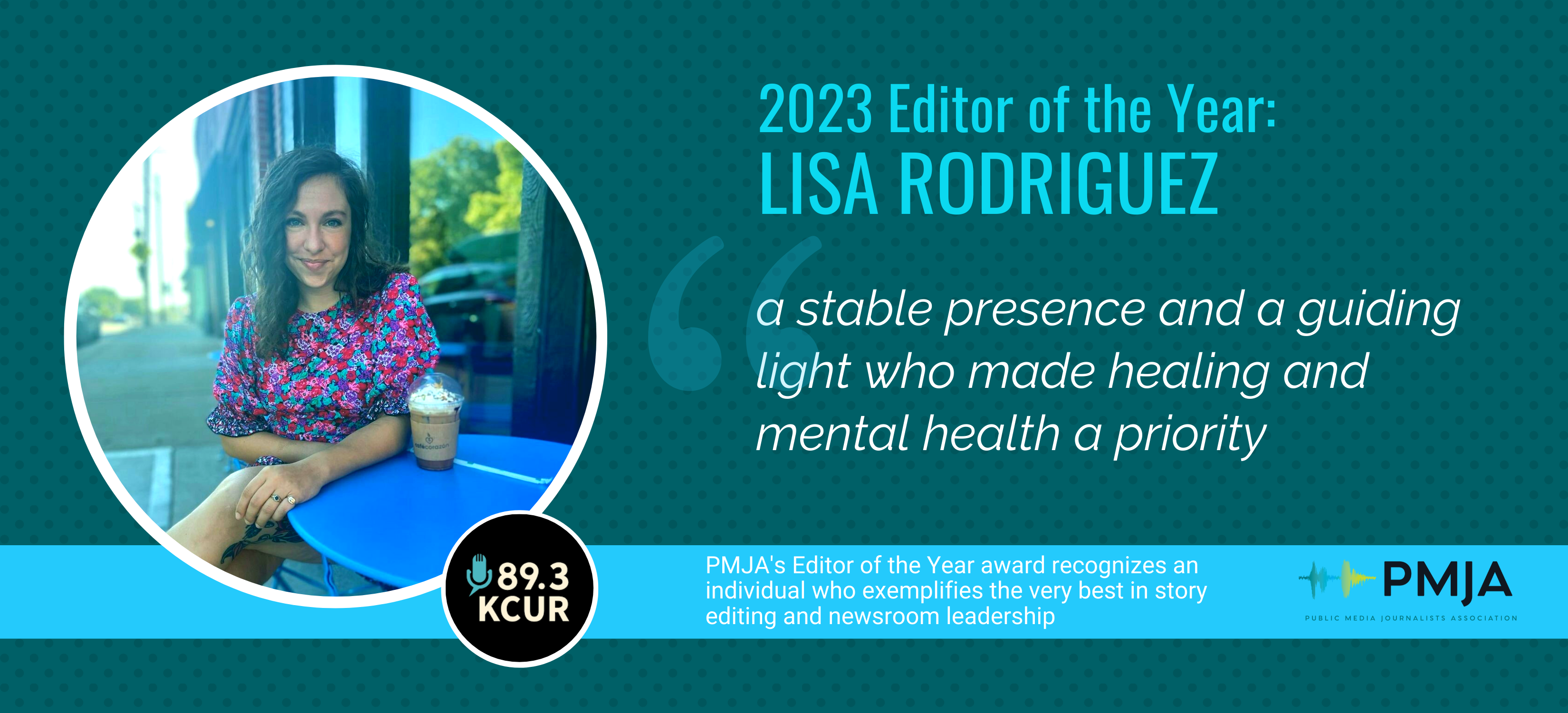 PMJA is pleased to announce that KCUR News Director Lisa Rodriguez will be the 2023 PMJA Editor of the Year. She was nominated for the honor by two editors at KCUR, Gabe Rosenberg and Madeline Fox. The two had great things to say about her leadership and editorial insights alike.
Lisa has served as the news director at KCUR since November 2020. She took the position after the abrupt departure of the station's content director and while the organization was under interim leadership. On top of all of that, this was during a global pandemic.
In their nomination, Rosenberg and Fox praised Lisa for leading KCUR through a difficult period. Just a few of the important points that led the PMJA board to choose Lisa include:
Collaboration is first nature for Lisa: she creates an inviting and supportive atmosphere, where people feel welcomed and comfortable sharing their concerns and their ideas and trust that Lisa will take them seriously. Lisa knows and values every part of KCUR's newsroom because she's done it herself: She began here as a news intern before becoming City Hall reporter and All Things Considered newscaster."
"Reporters rave about her "story therapy" sessions, when she makes time to talk through reporting that they're stuck on, or scripting to help them tease out the best way forward. It makes their work stronger and builds their confidence. Lisa is also training reporters to ask for help and talk through issues, rather than letting them balloon into bigger roadblocks, which has been a gift to the editors who work with those reporters later on."
Under Lisa's leadership, KCUR led the creation of the KC Media Collective, a collaboration between multiple nonprofit news organizations in Kansas City. She was also involved in the creation of the Midwest Newsroom, an investigative team that covers four states. Lisa, a native of Santiago, Chile, has overseen the creation of a daily news podcast, led coverage of multiple national events and expanded the station's Spanish language content.
Perhaps most telling in the nomination is the quote about how Lisa led the staff following a major tragedy, "Lisa proved to be exactly the leader that KCUR needed in that time, a stable presence and a guiding light who made healing and mental health a priority for the entire station going forward."
PMJA's Editor of the Year award was implemented in 2017 and is designed to recognize an individual who exemplifies the very best in story editing and newsroom leadership. Lisa will be presented with the 2023 PMJA Editor of the Year award at the annual PMJA conference in San Antonio in June.