Committees
Join a PMJA Committee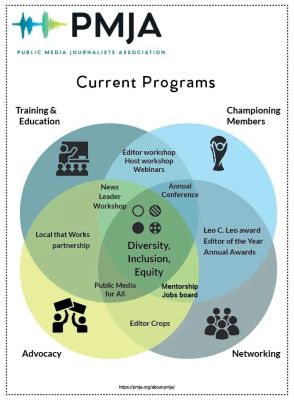 In addition to its Board and staff, PMJA relies on members and volunteers to achieve its goals to support, empower and advocate for journalists working in public media. There are six standing committees empowered by the Board for a variety of responsibilities.
PMJA members are uniquely positioned to contribute to our mission through volunteer opportunities on our committees. Explore all the options and find the right one for you.
Consider joining a committee today!
Sign me up!
Develop and track meaningful metrics and create benchmarks to embody the diversity, equity and inclusion goals stated by the Board of Directors
Evaluate the effectiveness of membership, training, conference and awards programs in supporting the Board's stated goals
Recommend strategies, policy changes and action steps to the Board that will advance efforts to achieve their stated goals
Recommend process improvements and programming to other committees that will elevate the opportunities and resources available to help build an inclusive and equitable public media system
Focus on selecting the conference theme and overall structure of the event

Identify keynote speakers to support the conference theme

Develop the call for proposals

Improving representation of all groups in public media journalism through programming that is conscious of diversity, equity and inclusion

Ensure adequate funding to execute the conference through grants and sponsorship

Develop exhibitor strategy and participate in soliciting participation

Work with local host stations to ensure representation of local culture and outreach to appropriate local audiences

Outreach to non-members in the geographic region where the conference is held

Reviews ratio of resource input to impact to ensure PMJA time and resources are providing the greatest value for members
Articulates the various ways in which members can benefit from and participate in the work of PMJA

Assists staff in membership renewal and retention efforts

Assists staff in identifying potential members

Identifies opportunities to engage members in the organization and bring their perspectives, expectations and needs to the table

Develop and implement engagement activities that connect members to PMJA and to one another, both informally and through PMJA events and programs

Reviews ratio of resource input to impact to ensure PMJA time and resources are providing the greatest value for members

Makes recommendations to the Bylaws and Governance committees regarding membership structure as necessary

Works with other committees on issues that relate or intersect with member engagement and outreach activities
Responsible for maintaining the integrity of the bylaws and board governance manual

Ensure timely and compliant elections of board members and officers

Organize and execute annual business meeting of members

Develop a board member, officer, and committee recruitment strategy, taking into account desired skill sets and diverse perspectives. Continually identify and recruit candidates.

Orient and onboard appointed candidates, emphasizing appropriate respect of diversity, inclusion, and equity

Develop and implement a plan for continually educating the board, committees and officers, and continually strengthen the bonds among such individuals to encourage independent expression of ideas and collaborative decision-making

Review the performance of the board and committees, including the effectiveness of meetings, and make recommendations, as appropriate

Periodically review the defined and adopted mission and vision statements of the organization and whether they are consistent across documents and activities

Periodically review the governing documents of the organization and whether they are consistent with applicable laws and actual or desired organizational practices; amend such governing documents, as necessary
Analyze the training and educational needs of the public media journalism field

Participate in the development and improvement of training and education programs

Develop opportunities for advanced learning and leadership training working with partner organizations and subject matter experts

Identify opportunities to increase diversity, equity and inclusion throughout public media via educational opportunities offered by PMJA

Support stations sharing innovations and best practices through opportunities and resources offered by PMJA

Develop mentorship programs to increase multidirectional learning that will improve diversity, equity and inclusion in the public media system

Review ratio of resource input to impact to ensure PMJA time and resources are providing the greatest value for members
Review current awards structure and recommend areas where changes are needed with the intention of streamlining the process to reduce barriers to entry

Identify and recruit awards judges that represent a diverse and inclusive range of perspectives

Conduct outreach to actively seek and solicit nominations for awards to ensure outstanding entries from a diverse range of entrants

Present the nominees for the Editor of the Year and the Leo C. Lee awards to the Board

Plan and carry out the awards ceremony
FAQ
How often do committees meet?
Committees meet most months for about an hour, but may ramp up for big projects like the annual conference. Generally, you probably won't have meetings right around the conference or the winter holidays.
Besides the meetings, what other work goes into committee service?
That will vary depending on what kinds of project each committee is working on. You might be called on to craft or review policy documents, research other organizations to learn best practices, lead a members meet-up or recruit more volunteers. Sometimes we'll as you to call or email our members just to say thanks.
Do I have to be a PMJA member or a journalist to volunteer?
Nope! PMJA values the involvment of a wide range of volunteers to help us make our programming relevant and accessible. That means sometimes we need help from outside of the newsroom for projects that may involve marketing, fundraising or planning.
What do I get out of committee service?
Not only will you be helping to support public media journalists around the country, you'll also grow your career by learning more about the public media ecosystem, developing your network and gaining leadership skills.
Consider joining a committee today!
Sign me up!
Committee Chairs