Committees
Join a PMJA Committee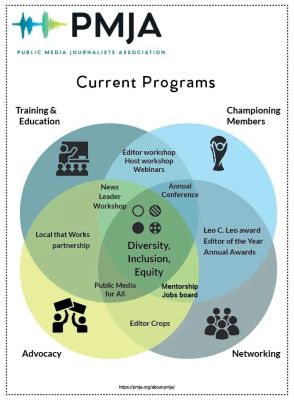 In addition to its Board and staff, PMJA relies on members and volunteers to achieve its goals to support, empower and advocate for journalists working in public media. There are six standing committees empowered by the Board for a variety of responsibilities.
PMJA members are uniquely positioned to contribute to our mission through volunteer opportunities on our committees. Explore all the options and find the right one for you.
Consider joining a committee today.



Develop and track meaningful metrics and create benchmarks to embody the diversity, equity and inclusion goals stated by the Board of Directors
Evaluate the effectiveness of membership, training, conference and awards programs in supporting the Board's stated goals
Recommend strategies, policy changes and action steps to the Board that will advance efforts to achieve their stated goals
Recommend process improvements and programming to other committees that will elevate the opportunities and resources available to help build an inclusive and equitable public media system