Traci Tong to Receive 2023 Leo C. Lee Award
Award will be presented at PMJA 2023 in San Antonio
Righting a wrong is what started Traci Tong's commitment to being a journalist.
She was only 15 when a journalism instructor in high school asked students to write something personal. Traci wrote about spending time at her grandparents' home on Maui as a child and swinging from plum trees on their property. Her teacher gave her a D on the assignment, saying that her writing was fiction because she thought there were no plum trees in Hawaii.
Traci set out to prove that what she had written was factual. She brought her teacher plum sauce from her grandmother, along with a note. The teacher remained dubious, but Traci ended up with an A in the class. Still, she never forgot the experience, which instilled a passion for telling the stories of ordinary people.
When Traci was in college, she worked with the campus newspaper and radio station, but got her first real-world experience when she was hired at Hawaii Public Radio in her junior year of college. Traci stayed at Hawaii Public Radio until she was 30, covering everything from the state legislature to natural disasters to Ferdinand Marco's move to Hawaii. She even spent several weeks at sea covering a voyage of Hokule'a – a double-hulled canoe that sailed throughout the South Pacific to retrace the migratory routes of the Polynesians using no modern navigational tools during the voyage.
Eventually, she was given an opportunity to interview in Dallas at KERA: North Texas Public Broadcasting. As a reporter, she saw conflict between communities of color and mostly white communities and started to write stories about those communities. She says, "Now they call it cultural reporting or diversity reporting – at that time, it was just Traci being interested in these stories." She got to know the communities and gained trust there.
Traci met and became friends with NPR's Doug Mitchell, who was at that time a producer for Weekend Edition's Scott Simon. At the same time, CPB reached out to Traci to invite her to participate in a new program called Unity, which was designed to bring together Black, Hispanic, Asian and Native American journalists. Traci and Doug Mitchell both became mentors for students. Shortly after that, Doug asked Traci to join him in carrying out his idea of training young journalists of color in a program called NextGen Radio. Traci has been the main managing editor for that program.
While in Dallas, Traci was approached by Neil Curry from the BBC who was starting a new program called "The World." Traci was one of the first hires and started working there before the first show aired. She served as a newscast presenter, producer, and studio director, traveling all over the world to train and work with new journalists. The idea of The World was not to do "helicopter journalism," but to train reporters who lived there to report for the program. Traci spent 25 years with The World.
Traci loves giving back and helping the next generation of journalists from every background and helping them fall in love with public media journalism. She continues to do this not only through her work with NextGen Radio, but also through her current work with PMJA's Editor Corps, where she helps reporters at all levels at stations across the country. Traci sees her greatest accomplishment in public media as helping others find that love of journalism and helping them bring important stories to the public.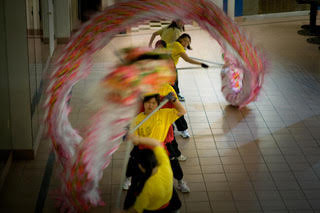 When she's not working, Traci loves being in the water. She is part of the first all Asian women's Lion and Dragon dancing troupe. She loves to travel around the world and across the US accompanying her husband who works with PBS' Antiques Roadshow.